The very special 2022 Exotic Angels Red Hot Collectors' Edition is the spectacular culmination of more than two decades of the exhaustive and sexy nationwide Exotic Angels model search! This must have second "All Star" edition features 12 of our best liked and most requested showgirls who have appeared in our calendars and competed in our finals over the past 20 years! It is a truly remarkable showcase of true blue Aussie and International fully naked hotness!
We have selected scorching and never before published photos from our hottest past calendar shoots so while you may recognize the ladies, you haven't seen these completely uncensored pics before!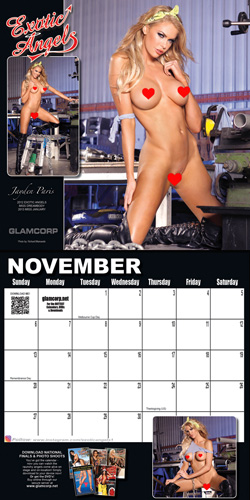 The spectacular 2022 edition showcases:
Jayden Paris
Morgan Sommers
Amber Love
Dallas Rayne
Erica Everheart
Ashley Elliott (UK)
Jade Ivy
Phoenix (NZ)
Indica Trixx
Scarlett Morgan
Blaze
Shani Rampage

The jaw dropping full size 300mm wide x 600mm high fully nude glossy wall calendar also features an exclusive "sneak peek" of our "angels in waiting"! These are the sensational ladies waiting to compete in our 2022 National Final and appearing in our 2023 edition !

This is truly the best gift ever! For yourself or someone else that appreciates stunning true blue (and very naked) Aussie girls!
There are absolutely NO stars or love hearts in the way obscuring the sensational view inside the actual calendar.

WARNING! Contains full, gratuitous, unapologetic and confronting nudity